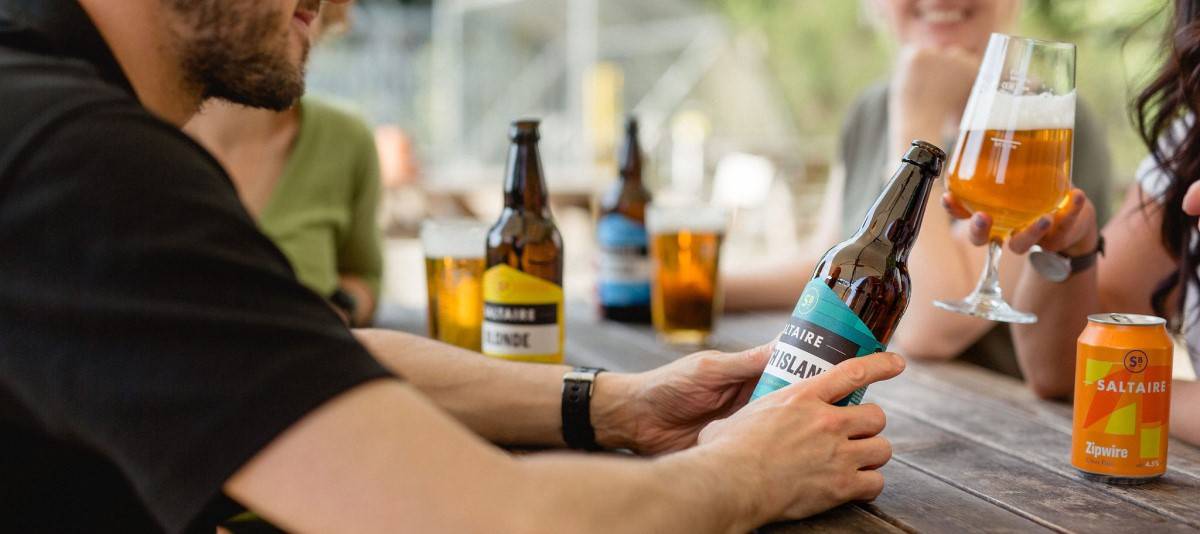 Saltaire Tap Room
Has lockdown left you thirsty for a 'proper pint' of our delicious cask or keg beers? With six hand pumps dedicated to Saltaire beers and eight keg taps, our Tap Room bar serves plenty of choice. While our beer garden offers a safe, relaxed, outdoor space to savour our brews.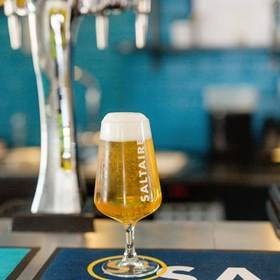 Opening times
Thursday

12.00 - 9.00 pm

Friday

12.00 - 9.00 pm

Saturday

12.00 - 9.00 pm

Sunday

12.00 - 6.00 pm

Monday to Wednesday

Closed
Relax in our beer garden
Our large beer garden is a great outdoor space for you to relax and savour our beers. While we're not able to return to normal with a full events programme yet, we will be welcoming back some of our favourite food stalls at weekends over the summer.
Follow us on Twitter and Instagram to find out about the beers on the bar, food and anything else happening.
Our priority is the safety and well-being of our customers and employees. To give you a safe, relaxed and enjoyable experience, we've made a few changes to help maintain social distancing and provide safe facilities:
Entry will be managed at the Brewery entrance. On arrival, please wait for a member of our team to show you to a table.
Seating is outside in the beer garden with an at seat service only for all orders, please do not approach the Tap Room bar area.
No more than six people from a single group are allowed per table to respect social distancing rules.
Sanitising stations are available – to keep those hands clean!
Toilet facilities are available in the Tap Room for women only and entry to the Tap Room and Shop is not allowed for any other reason. Men's facilities are in the Portacabin on site.
Contactless payment is preferred, if possible.
Tables can, but don't have to, be reserved by calling us during Tap Room opening hours on 01274 452098 to book or send us an email: taproom@saltairebrewery.com.
Beer to take home is available to collect. Please order by phone on 01274 452098 during our opening hours and arrange a collection slot.
To re-open safely we also need your help. If you are planning to visit us, we ask that:
If you have not booked a table, be prepared to wait.
Social distancing and hand hygiene guidance is respected, please use our facilities to help you.
If you have travelled by car, please park on Dockfield Road. Our yard will be closed to allow socially distanced seating to be available.
If you are cycling to the Taproom, please dismount at the entrance gate and wait to be seated, and use our dedicated bike park. We're officially Bike Friendly and welcome cycling friends, but cycling in the Brewery yard is not allowed.
Dogs are welcome but please keep them on a lead.
Children remain at tables and are supervised at all times. Our beer garden and the brewery yard are not safe play areas.
Please respect our team, we are here to keep you and ourselves safe as well as serve beer. And please bring a smile and a large portion of patience because this is new to us too.
Let's stay safe together.
If you don't fancy visiting the Tap Room yet, or need to continue to stay safe at home, why not make the most of our Home Delivery service?
Enjoy your favourite Saltaire beer, delivered to your home
Our Home Delivery service means you can enjoy your favourite Saltaire Beers while staying safe at home during the Covid-19 pandemic. You can now buy our beer in bottles, cans, mini-casks, bag-in-boxes, and especially selected mixed cases and more, for free delivery across West Yorkshire. Buy now online or call 01274 594959 between 8.30am and 4.30pm, Monday to Friday, 9.00am-5.00pm on Saturdays, to find out what we have and how to order. Or leave us a message and we'll call you back.