Privacy Policy
Your privacy is as important to us as it is to you. Our Privacy Policy will help you understand what personal data we collect, why we collect it and what we do with it. If you want to contact us about your personal data, please email: dpo@saltairebrewery.com or call us on 01274 594959.
Introduction
At Saltaire Brewery, we collect personal data to give you a better experience, improve our products and services and bring you the very best offers and competitions, and fulfil our responsibilities in accordance with the law.
We may change or update this Privacy Policy from time to time and without notice, so make sure you check back occasionally.
This Privacy Notice is intended to help you make informed decisions about your information and it explains:
Who we are and how to contact us
What information we collect
How and why we use your information and the legal bases which allow us to use it
Where your information comes from
How we use Cookies
Who we share your information with
How long we keep your information for
How to access your information and other rights
How and where we store your information
1 Who we are and how to contact us
Saltaire Brewery is a Yorkshire based producer and packager of beer and operates an onsite licensed premises, as well as hosting larger events and festivals which the public attend.
Like most businesses, Saltaire holds and processes a wide range of information about individuals. This Privacy Notice describes Saltaire's practices in relation to personal information about individuals ('information') collected through activities that refer to this Privacy Notice, whether offline or online including though websites, software applications, or through third party platforms or electronic messaging ('sites').
Saltaire Brewery Limited is the data controller responsible for your information. We are registered with the Information Commissioner's Office (ICO): ZA345062
We are an English company with company number: 04795699 and our registered office address is:
103 Dockfield Road, Shipley, Bradford, BD17 7AR
If you have any questions about this Privacy Notice or want to exercise your rights, please contact us by:
sending an email to dpo@saltairebrewery.co.uk
calling us on 01274 594959
writing to us at our registered office address above, marking your letter for the attention of the DPO.
2. What information we collect
We will only collect data we need to:
give you a better experience
improve our products and services
fulfil our responsibilities in accordance with the law
We may collect the following information from or about you:
full name
social media handle
contact details such as your email address, home address, home/mobile telephone number
age or date of birth
gender
general information such as your interests, experience of our products, contact preferences, competition entries or other content you submit to us or post online
photographs or videos with your likeness
details of purchases or orders made by you
details of your device and your visit to our sites such as browser details, IP address and on site behaviour e.g. pages viewed.
You must not provide us with your personal information if you are not of legal age to purchase alcohol in the jurisdiction in which you reside and (if different) in the jurisdiction in which you are accessing the website. We do not intend to collect personal information from any individuals under the legal purchase age or market alcoholic beverages to anyone under the legal purchase age.
3. How and why we use your information and the legal bases which allow us to use it
This is how we may use your information. We hold this either for the performance of a contract with you, because we have a legitimate interest, or to comply with a legal obligation: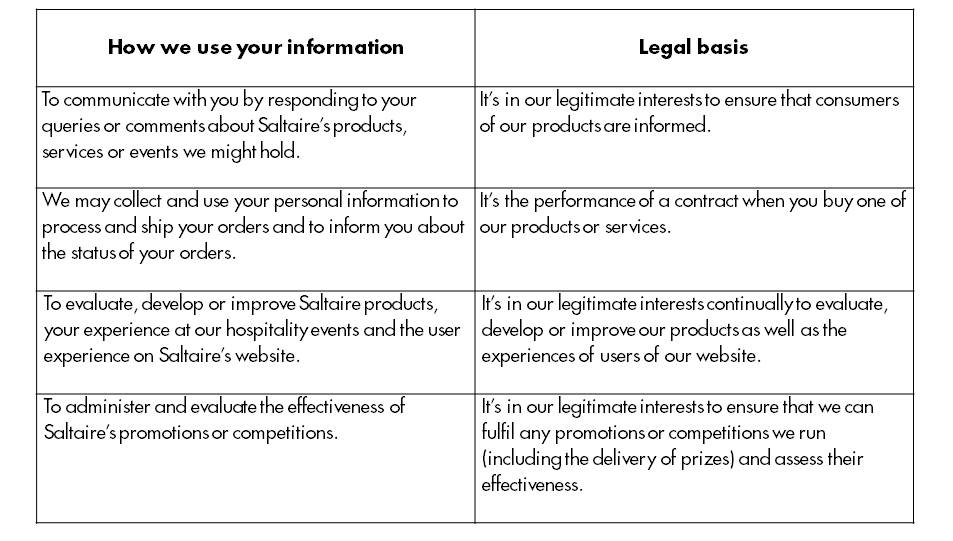 4. Where your information comes from
Information we may collect about you comes from:
Directly from you when you provide us with that information; e.g. when you contact the Brewery to open an account, effect a purchase or enter a promotion or competition or ask to receive our newsletter or other information from us. It may also come from emails or letters you have sent to us directly or through external agencies.
Automatically when you visit our website and websites that we run on third party social networks such as Facebook (e.g. Facebook fan page or when our cookies and other web tools may collect information about your visit.), also Saltaire's mobile sites/apps - any consumer-directed mobile sites including any smartphone apps.
From other sources; e.g. if you ask a shop to forward to us your enquiry about our products for a response; from publicly available information you post online.
5. How we use Cookies
Some pages on our website and mobile apps use cookies, which are small files placed on your internet browser when you visit our website or use our apps. We use cookies in order to offer you a more tailored experience in the future, by understanding and remembering your particular browsing preferences.
Where we use cookies on our website, you may block these at any time. To do so, you can activate the setting on your browser that allows you to refuse the setting of all or some cookies. However, if you use your browser settings to block all cookies (including essential cookies), you may not be able to access all or parts of our website or to use all the functionality provided through our website.
6. Who we share your information with
We do not sell, rent or trade email lists with third parties, it's just not what we do. We don't share your information with third parties without your consent unless it is with:
Our trusted service providers who carry out certain activities on our behalf. These include advertising, marketing or promotional agencies, IT companies and delivery companies.
Law enforcement or government authorities, or we believe it is necessary for legal or public safety reasons.
Debit or credit card processing companies or credit agencies.
The new owner of Saltaire Brewery Limited, in the event of a sale.
7. How long we keep your information for
We keep your information only for as long as necessary to fulfil the purpose it was collected for.
8. How to access your information and other rights
You don't have to give us your information. But if you don't, we won't be able to provide you with services or to communicate with you.
It might also affect our ability to look into and report back to you on an issue you've raised. Other times, it might mean you won't be able to participate in a promotion or competition we're running (or send you a prize if you win!).
You have certain rights which are set out in the law relating to your personal information. The most important rights are set out below.
Getting a copy of the information we hold
You have the right to request access to the personal data we hold about you, by writing to the Data Protection Officer (in Section 1). This is known as a data subject access request and should be provided to you within 30 days.
You will not have to pay a fee to access your personal data, unless we believe that your request is clearly unfounded, repetitive, or excessive. In such circumstances we can charge a reasonable fee or refuse to comply with your request.
We will try to respond to all legitimate requests within one month.
Telling us if information we hold is incorrect
We want to make sure that the personal data we hold about you is accurate and up to date. If any of your details are incorrect, please let us know and we will amend them. Please contact the Data Protection Officer if you want to question any information we hold about you that you think is wrong or incomplete and we will take reasonable steps to check its accuracy and, if necessary, correct it.
You have the right to:
Object to our use of your personal information (known as the right to object); or
Ask us to delete the personal information (known as the right to erasure); or
Request the restriction of processing; or
Ask us to stop using it if there is no need for us to use it (known as the right to be forgotten).
There may be legal reasons why we need to keep or use your data, which we will tell you if you exercise one of the above rights.
Withdrawing consent
You can withdraw your consent to us using your personal information at any time. Please contact the Data Protection Officer if you want to withdraw your consent. If you withdraw your consent, we may not be able to provide you with our services.
Request a transfer of data
You have the right to data portability in certain situations. You may ask us to transfer your personal information to a third party. This right only applies to automated information which you initially provided consent for us to use or where we used the information to perform a contract with you.
If you have a concern about any aspect of our information rights practices, including the way we've handled your information, you can report it to the UK Information Commissioner's Office (ICO). You can find details about how to do this on the ICO website at https://ico.org.uk/concerns/ or by calling their helpline on 0303 123 1113.
9. How and where we store your information
We are committed to protecting your personal data and to keeping it safe and confidential. We have put in place appropriate security measures to prevent your personal data from being accidentally lost, used, or accessed in an unauthorised way, altered or disclosed. In addition, we limit access to your personal data to those employees, agents, contractors and other third parties who need to know. They will only process your personal data on our instructions and they are subject to a duty of confidentiality.
We have put in place procedures to deal with any suspected personal data breach and will notify you and any applicable regulator (including the ICO) of a breach where we are legally required to do so.
Your information may be transferred and stored overseas, in countries outside the European Economic Area (EEA), either by us or trusted third parties acting on our behalf. Whilst some of those countries do not afford the same legal protection as is enjoyed in the EEA, we require third parties which receive your information to provide adequate safeguards. By providing us with your information, you agree to us (or third parties acting on our behalf) transferring your information outside the EEA.