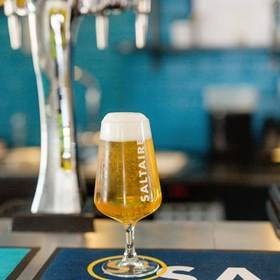 Opening times
Our tap room is currently closed.
If you've ever visited us, you probably love our Tap Room as much as we do. With a heavy heart we have decided to close its doors for winter, due to the heating sadly failing in our historic Victorian brewhouse. However, so you don't miss out on our lovely beer, our shop will be open 10 til 4, Monday to Friday. It is now located in our reception building, please come into the yard and follow the signs. You can find bottles, mini casks and merchandise to take away. 
Due to the Tap Room closing, unfortunately our Brewery Tours have been put on hold for the foreseeable. As soon as the Tap Room reopens, our tours will be able to continue as normal. 
Please keep an eye on our social media as well as the website for further updates on when you can expect the Tap Room to reopen and Brewery Tours resume. If you have any queries in the meantime, please contact our team on 01274 594 959.
Enjoy your favourite Saltaire beer, delivered to your home
Our Home Delivery service means you can enjoy your favourite Saltaire Beers at home. You can now buy our beer in bottles, cans, mini-casks, bag-in-boxes, specially selected mixed cases and more, for delivery across the UK. Buy now online or call 01274 594959 between 8.30am and 4.30pm, Monday to Friday, to find out what we have and how to order. Or leave us a message and we'll call you back.